On Nov 8th, 2022, CDNetworks observed that our own security platform has automatically mitigated once large-scale DDoS attacks with 2.2 million request-per-second (RPS). The attacks targeted CDNetworks website, which had been protected by our own Application Shield Solution, and it were up to 109 million requests DDoS attacks less than 90 seconds (The chart below shows 5-minute granularity). As one of the CDNetworks Cloud Security Solutions, Application Shield provides an all-round and more universal solution to all corporates and to protect their networks with multi-layered security technologies, no matter it is for our customers or our own self.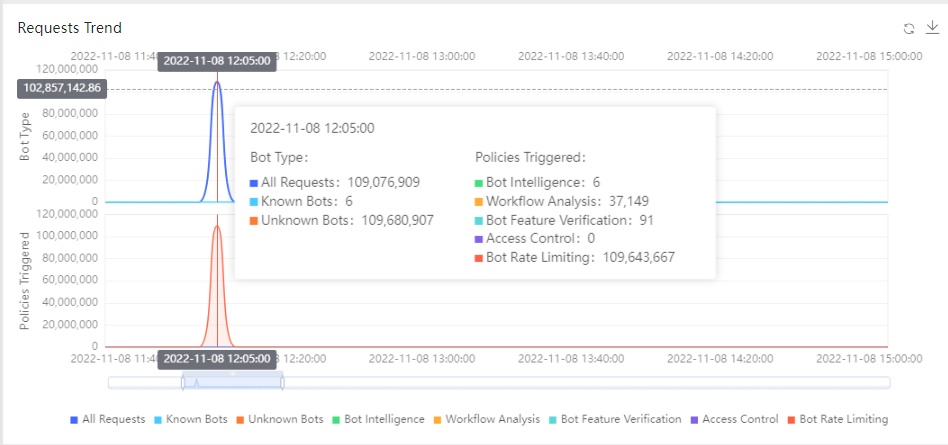 Even though it isn't the largest application-layer attack that we've seen, it is still worth noting that this attack was over HTTPS. It requires establishing a secure TLS-encrypted connection to launch the HTTPS DDoS attack, therefore the attacker needs to cost more.
Starting around 12:02:33 a.m. GTM+9 on Nov 8th, 2022, an attack of more than 1.7 million RPS began targeting CDNetworks' website homepage. This intense attack lasted for 60 seconds and up to a peak of 2.2 million RPS. Over the next 30 seconds, the attack started to decrease in volume, and ultimately ending at 12:03:55 a.m. GTM+9. Since CDNetworks security platform have already seen large attacks as high as 34M RPS matching the same attack fingerprint. So CDNetworks websites are protected against this time attacks generated by botnet and do not need to take any further action.
Top Source Countries
This 2.2M RPS DDoS attack originated from botnet from over 128 countries. The top countries were Indonesia, India, Thailand, Mainland China and the United States.

Top Source Networks
Within those countries, the top source networks were Gyeongsangnam-do South-Korea, Denver Colorado United-States, Udon-Thani Thailand, North-Rhine-Westphalia Germany and National-Capital-Region Philippines.


About CDNetworks Cloud Security Solutions
CDNetworks' Cloud Security Solutions combine the robust performance of a Content Delivery Network (CDN) with enhanced security to deliver website contents quickly and securely. It comes with multi-layered security technologies for websites, applications, and APIs, and helps businesses secure their business operations in a flexible and economical way.
CDNetworks offers WAAP services to customers, and the core features of WAAP Capabilities center around bot mitigation, WAF, API protection, and DDoS protection. These cloud WAAP services consist of security modules from our Cloud Security Solution that empower organizations to deploy cloud infrastructures across disparate digital infrastructure.
Not using CDNetworks yet? Start now with our Free Trial to protect your websites, or contact us for comprehensive security protection for your entire network using CDNetworks Cloud Security Solutions.