Cloud DNS+
Fast, secure and reliable DNS Service anywhere in the world
Managed cloud-based authoritative DNS (CDNS+).
CDNetworks Cloud DNS+ provides a managed cloud-based authoritative DNS (CDNS+) service that is secure, reliable and scalable and offers high performance under any traffic conditions from anywhere in the world. Implementing CDNS+ is as simple as three easy steps including organization of domains into zone files, zone file publishing, and delegation change through the domain registrar. Once the zone is offloaded to CDNS+ – our secure, reliable, scalable and global infrastructure will ensure website consistent availability and responsiveness to users around the world.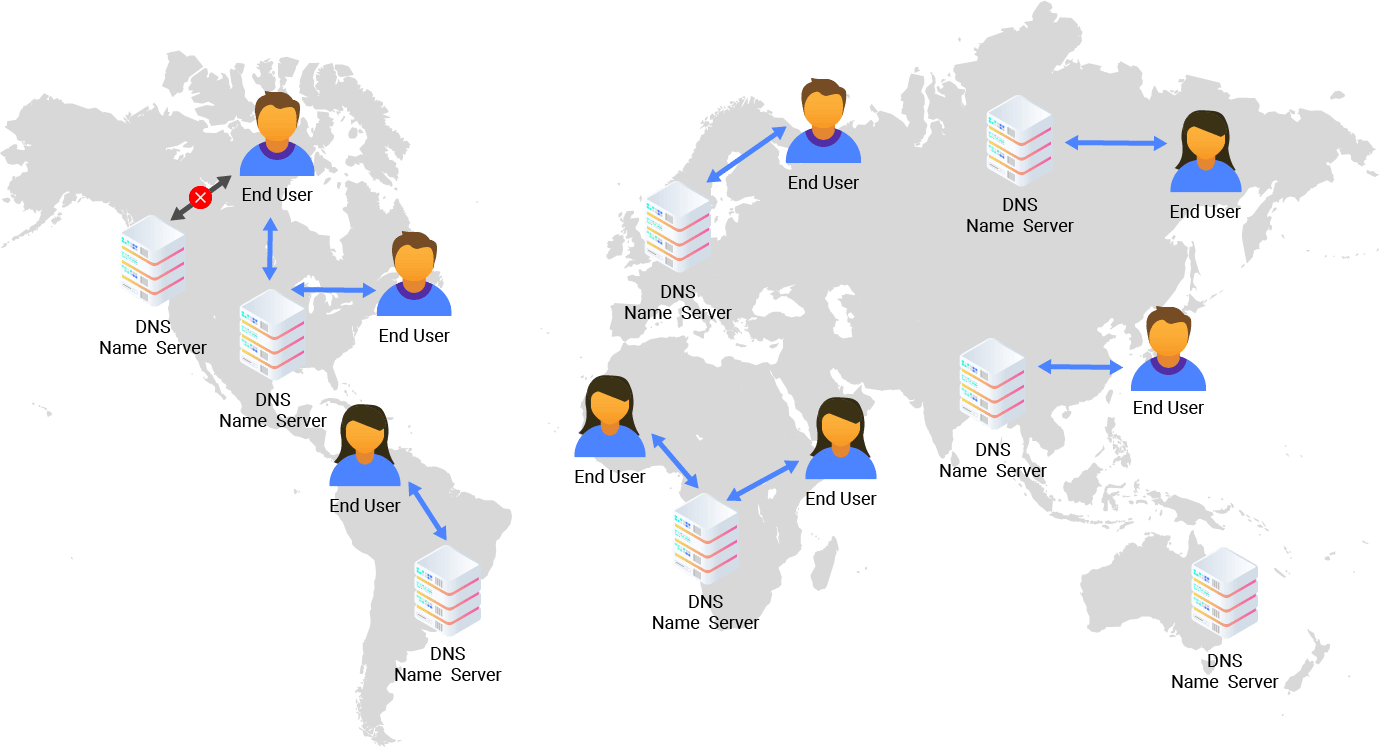 Cloud DNS+ Resources
Cloud DNS+ Resources
Read more at our blog
Cloud DNS+ Resources
Globally-distributed platform with over 40 strategic locations worldwide.
CDNetworks Managed Cloud DNS+ ensures that your website always displays up-to-date data in near real-time through a globally-distributed platform across over 40 strategic locations worldwide. These multiple locations provide built-in redundancy and DDoS protection, so DNS queries can always be answered with correct information. Cloud DNS+ can seamlessly scale up to an unlimited number of domains and queries, and any changes or additions to the DNS configuration are validated by the Cloud DNS+ server to avoid any downtime caused by configuration error.
User portal with advanced management and control features
Ensures DNS security, protecting against spoofing and cache poisoning
Always available thanks to built-in redundancy
Fast response across the globe
160,000,000 QPS
The ability to defend against T-level DDoS attacks, and had defended against 160 million QPS attacks so far.
Increasing PoPs
Global infrastructures located in 48 cities from US to Australia and are expanding day by day.
Manage Through API and Web UI
You can manage DNS records through our web UI or API.
IP Anycast
Optimize performance and availability by routing requests to the nearest server available with failover protection enabled.
Complete Outsourcing
Reduce IT spending for you while ensuring fast and easy solution implementation
Cloud Load Balancing
Specify deliver of DNS record based upon user profiles (geographic region, IP address, traffic ratio, and network / system availability and performance)
100% Availability
Guarantee 100% availability of our authoritative name servers.
IPv6
Support processing IPv6 DNS queries from end-users.
Advanced Reporting
Provide clear visibility into customer traffic through DNS.
Trusted by global leading companies across key industries
CDNetworks is a leading Global Content Delivery Network. We provide innovative and custom-tailored solutions to businesses across key industries.