Video, in all its forms, has become an increasingly popular way for businesses to communicate. With the democratisation of video capturing technologies and the proliferation of video platforms, it's an accessible way for brands to reach clients and customers as well as to grow and sustain their brand.
Two of the most popular forms of online video streaming are live streaming and video on demand. But how do they work and what differentiates them from one another?
This guide will look at the features of both, assessing their pros and cons and the ideal scenarios in which to utilize them.
What is Live Streaming?
In its simplest terms, live streaming is the transmission of live video content over the internet for consumption by an end-user. Content is simultaneously recorded and broadcast using an over-the-top (OTT) streaming service.
Live streaming is rapidly growing in popularity. It's estimated that by 2028, the industry as a whole will have ballooned to be worth between $180-220billion.
While this figure includes people streaming for pleasure and not just for business needs, it indicates that it's rapidly becoming one of the most effective forms of video communication and, if utilized well, can be a hugely beneficial tool to help grow your brand.
How is Live Streaming Used by Businesses Today?
Live streaming can be an ideal way for businesses to interact with their audience in a more personal and engaging manner than video on demand (VoD) may allow.
Live events such as conferences, product launches and webinars can benefit greatly from the use of live streaming as it allows for more audience participation as people can ask questions, answer polls and be all-together more involved in the interactive process.
The interactivity of streaming can be its most powerful tool and CDNetwork's Media Acceleration Live Broadcast streaming solution offers ultra-low latency, real-time streams that contribute to an overall more interactive viewing experience.
Live streaming can also be used when the topic and the content are too broad to be covered using video on demand. If you have any subjects you wish to explore, live streaming would be far more suitable than releasing an hour-long video. This is well beyond the optimum length for video on demand as viewers become disengaged.
What is VoD?
Video on demand, or VoD, is a form of video consumption whereby users can select and stream pre-recorded videos as they please from a VoD platform. This extremely popular form of consumption allows users to dictate where, when and how they watch content and is possible on virtually any smart device, from TVs to smartphones.
VoD offers more control for both content creators and consumers, as it allows greater freedom of post-production, publishing and viewing.
Both live streaming and demand streaming have their pros and cons depending on the type of content you wish to distribute.
You can learn more about VoD, and how it works, here.
Benefits of VoD for Businesses
Perhaps the biggest benefit of video on demand, as mentioned earlier, is the convenience with which the content can be viewed. Unlike live streaming, viewers do not have to be sat down at exactly the right time and in the right place, with a strong internet connection, to view the video.
While live streaming can allow for a more engaging experience, it can also have the effect of narrowing down your viewership as the conditions needed to watch a live stream can be less accessible than those needed for VoD.
CDNetwork's Media Acceleration VoD streaming platform supplies high-quality video to any device using any operating system in any location and can be the ideal video streaming service for your business's on-demand video requirements.
Due to the accessibility of VoD content, it's also easier for it to be shared and distributed on a wider range of video and social media platforms, ultimately increasing the exposure and reach of your business.
As mentioned above, one of the key benefits of on-demand content is the control over variety, editing and publishing that a business has.
With VoD, you are able to edit and perfect a video after you've recorded it, allowing you to elevate the look and sound of it and even allowing you to add touches that are personal and distinctive to your business, such as watermarks or slogans.
By adding these aspects, and by eradicating errors that are more likely to arise during live broadcast, you're able to make your videos look overall more professional. You can then even post preview clips of a video to generate increased interest and ultimately increase views when you release the whole package.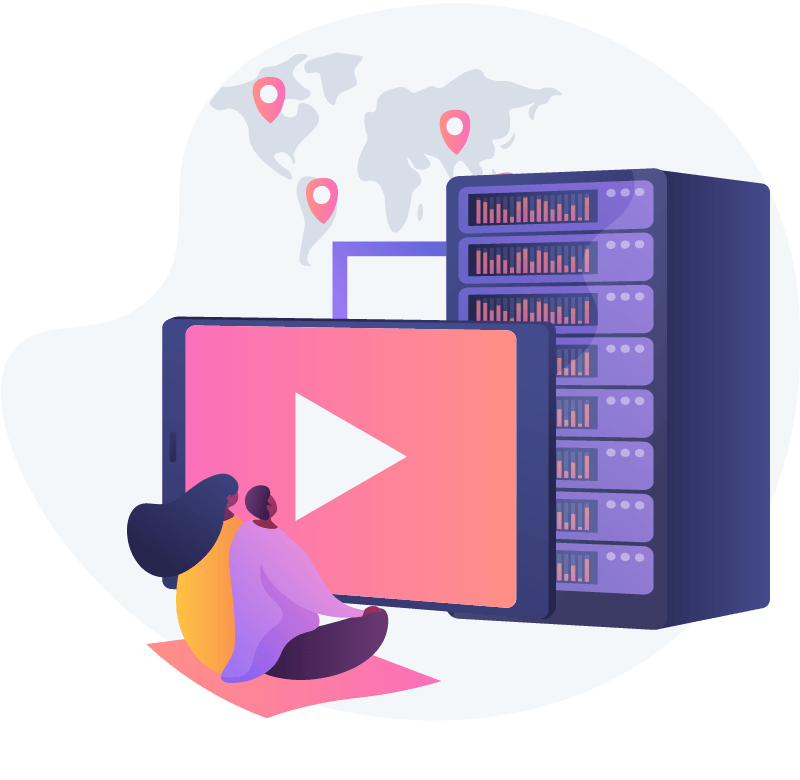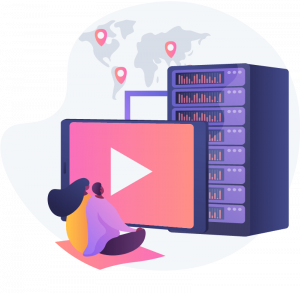 Read More:
Live Streaming vs VoD – The Main Differences
Video Quality
One of the key differences between live streaming and VoD is the quality that they're able to operate.
In general, streaming content live requires greater bandwidth and as such can make it more difficult for viewers to watch in high-quality. With VoD, viewers can watch in the highest possible bitrate depending on their own capabilities without risking lag or interruption.
Furthermore, with VoD, creators are able to make visual and audio adjustments and eradicate any errors that may have occurred during filming.
You can read our favourite tips on improving stream quality here.
Real-Time Audience Interaction
Despite reduced image quality, live streaming does offer greater audience interaction and participation, an aspect which is lacking with video on demand.
Allowing the viewers to ask and answer questions and give feedback creates a less rigid and more personal experience. Giving viewers greater control over the content of the stream can ultimately lead to a more satisfied and loyal viewership.
In-Depth Content
Whether you decide to implement a live stream or VoD service should also depend on the depth of content you aim to cover.
As touched on, live streams can be a more appropriate way of communicating when you aim to cover a wide range of topics in great depth as attempting to pack all of the content into an on-demand video may not be feasible and the video would be far too long.
Utilizing Repurposed Content
VoD is able to make use of repurposed content to improve the viewing experience. Whereas live stream relies solely on immediate footage, VoD can incorporate archived footage to tell its story.
In addition, live content itself can be repurposed and be used in tandem with on-demand video. Whereas an hour-long VoD would be far too beyond the optimum length and users may become disengaged, a stream could be recorded and released as smaller bite-size chunks. Combined with Object Storage, CDNetworks Media Acceleration Live Broadcast helps record live streams into videos and enables viewers to watch whenever they want. As a result, viewers can rewatch particular sections at their own will.
Cost
Streaming can be a lot more cost-effective than recording, editing and releasing on-demand videos.
Due to its timeliness, a live stream is more suited to getting information across to large groups than a demand service is. A staff training session, for example, can be done over a single live stream and delivered to hundreds of staff simultaneously. At the most basic level, all that's required is a camera, computer and an internet connection.