CDN360
The next evolution of content delivery networks
CDN360
利用開始から運用まですべてをオンライン化
Take charge of your CDN with our unique self-serving features.
CDN360 is leading the next evolution of content delivery networks (CDN). Our platform accelerates, secures, and scales your applications — enabling you to have granular control over your content delivery and costs. With a clean workflow and programming interfaces at its core, CDN360 creates an engaging experience for engineering teams, and comes ready to be fully integrated into the development-automation process.
CDN360 boasts unique self-service capabilities, along with a friendly, yet powerful user interface and application programming interface (API), for seamless integration into your SDLCs.
Ease of use
Created for engineers. Easy to get started by anyone with a minimum background in CDN, yet sufficiently powerful for advanced users as well.
Seamless Integration
With a rich API, Edge Logic and processing at the edge, you can implement features at the CDN level without touching your application codebase.
Flexible Cost/Performance Management
CDN360 empowers you to self-customize service coverage so you can manage expenses according to the performance you need.
State-of-the-art Load Balancing
Dynamic monitoring of the Internet and direct traffic is based on real-time performance metrics and system-load information.
Edge Logic with JavaScript Support
To process request/response on the edge with familiar tools – NGINX configuration scripts & JavaScript.
Access Control at the Edge
You can implement sophisticated access-control algorithms with Edge Logic to process requests to protected content at the edge
CDN360 Resources
Portal Login
Have Questions?
CDN360のリソース
ポータルログイン
Q&A
Coverage & Pricing
CDN360 is dedicated to providing customers with the finest self-service experience, including the capability of balancing cost with performance. CDNetworks' global points of presence (PoPs) are organized into four "server groups" based on cost. 
We define different prices for traffic served from the four groups. Customers are empowered to self-configure the "server groups" for each country and ISP. In this way, they can fully customize performance and cost for different regions in the world. CDN360 covers the most significant areas on the planet, and continues to expand its global network reach at a rapid pace.
North America
Atlanta, USA

 

Boston, USA

 

Dallas, USA

 

Denver, USA

 

Indianapolis, USA

 

Los Angeles, USA

 

Miami, USA

 

Montreal, Canada

 

Toronto, Canada

 

New York City, USA

 

 
EMEA
Amsterdam, Netherlands

 

Bucharest, Romania

 

Frankfurt, Germany

 

London, United Kingdom

 

Madrid, Spain

 

Milano, Italy

 

Stockholm, Sweden

 

Warsaw, Poland

 
Asia & Oceania
Ha Noi, Vietnam

 

Hong Kong, Hong Kong

 

Incheon, South Korea

 

Singapore, Singapore

 

Taipei, Taiwan

 

Tokyo, Japan

 
China
Bayannaoer

 

Beijing

 

 

Benxi

 

Chengdu

 

 

Foshan

 

Fuzhou

 

Guangzhou

 

Hangzhou

 

Hegang

 

Huhehaote

 

Jieyang

 

Lanzhou

 

 

Lishui

 

Luohe

 

Maoming

 

Meishan

 

Nanjing

 

Qingdao

 

Quanzhou

 

Shantou

 

Shenyang

 

Shijiazhuang

 

Taizhou

 

Tianshui

 

Weifang

 

Wenzhou

 

Xiangyang

 

Xiaogan

 

Yangzhou

 

Yuncheng

 

Yuxi

 

Zhengzhou

 

Zibo

 
China
Bayannaoer

 

Beijing

 

 

Benxi

 

Chengdu

 

 

Foshan

 

Fuzhou

 

Guangzhou

 

Hangzhou

 

Hegang

 

Huhehaote

 

Jieyang

 

Lanzhou

 

 

Lishui

 

Luohe

 

Maoming

 

Meishan

 

Nanjing

 

Qingdao

 

Quanzhou

 

Shantou

 

Shenyang

 

Shijiazhuang

 

Taizhou

 

Tianshui

 

Weifang

 

Wenzhou

 

Xiangyang

 

Xiaogan

 

Yangzhou

 

Yuncheng

 

Yuxi

 

Zhengzhou

 

Zibo

 
HTTPS additional charge: $0.99 per million requests. Free traffic usage for up to $50, test CDN360 with no commitment, no credit card.
1 GB is defined as 1,000,000,000 bytes. Your invoice's billing traffic volume will be 8% higher than the value returned by our report API to account for network overhead at all layers, such as various protocol headers, TCP and TLS handshakes, and TCP retransmission.
HTTPS追加オプションは100万リクエストあたり0.99ドル。50ドルまでの無料トラフィックをプレゼント。コミットなし、クレジットカード登録なしでCDN360のトライアル利用をスタートできます。
HTTPS 추가 비용: 100만 요청당 $0.99. 최대 $50까지 트래픽 무료 사용, 지금 바로 CDN360 무료 체험을 신청해 보세요!
How the model works?
Assume your main objective is to ensure the performance of your website in China and Korea. In this scenario, you may want to configure the edge hostname to use all four server groups to serve these two countries, while using the "standard" group to serve the rest of the world. The screenshot on the right shows the completed configuration on the portal.
Consequently, the GSLB algorithm will take all PoPs into consideration to serve the two countries while only consider the "standard" PoPs for the rest of the world. At the end of the billing cycle, the invoice simply shows the amount of traffic served by each server group and the total number of HTTPS requests, with the associated charges.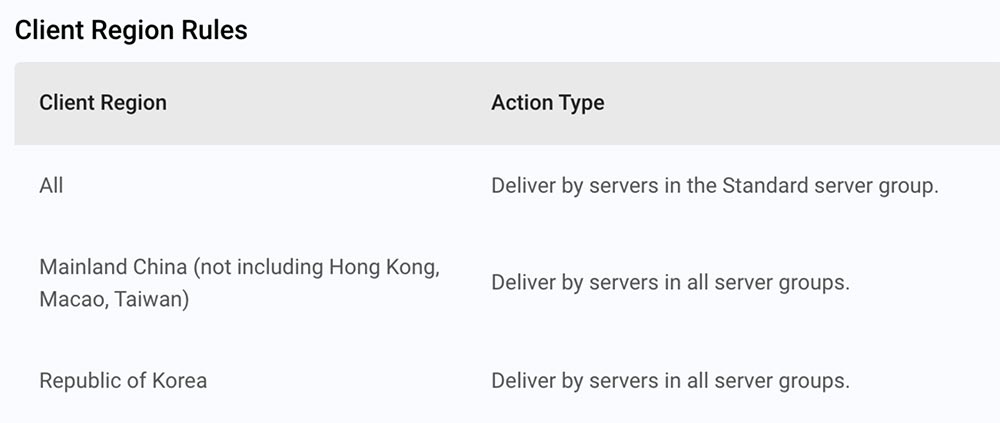 Sign up today!
New customers get a monthly discount up to $500 for the first 3 months. For a minimum commitment of $3000 per month, our sales department can set up a customized pricing plan. Please fill out the form and we will contact you shortly.
Product Benefits
CDN360 is designed to accelerate and deliver your applications to users worldwide, regardless of their location. CDN360 boosts content delivery, improves load times, and provides many more clear-cut advantages to deliver an unparalleled user experience.
Scales Easily
CDN360 points of presence are deployed on every continent. User requests are routed to edge servers based on factors such as proximity and resource/content availability, which reduce workloads on origin servers by more than 90%.
Blazing Performance
By keeping content close to visitors and utilizing intelligent request routing, CDN360 slashes TimeTo-First-Byte (TTFB) latencies and dramatically improves user experiences. As a result, you will obtain a better SEO, bounce-rate reduction, and other significant benefits.
Always Online
CDN360 is peered with many ISPs. Moreover, cached content on the edge remains available even if the origin server stops responding to requests.
China Delivery
CDN360 enables you to reach customers in mainland China. We can even assist in obtaining all necessary permissions and licenses.
Highly Self-Configurable
You can configure CDN360, test its behavior in a dedicated staging environment, and then deploy to production in minutes! With CDN360, long wait times to create and change configurations by email or phone calls are a thing of the past. CDN360 also allows you to self-configure edge servers and customize GSLB service maps.
Security
The CDN360 infrastructure provides a natural shield from a wide array of attacks against content providers and their users. Web Application Firewall (WAF) and DDoS mitigation afford even greater protection against serious threats.
Analytics
As part of CDN360, you receive access to raw data and tools to obtain invaluable insight into your audience's activity, location, devices, carriers, and more.
Why doesn't CDN360 follow a region-based price model similar to those offered by other content-delivery providers?
We believe our model provides customers with more choices and better control over cost and performance. In the example above, the user may find that the performance offered by "premium+" and lower priced groups already meets their requirements in China, so they can remove the "ultra" group for the China region to avoid any charge at the highest unit price. By comparison, a conventional price model commits users to a locked-in "China" price with fixed performance.
Is there any difference between PoPs in different server groups?
For consistency, server hardware is largely the same across server groups. The main difference between different server groups is the bandwidth cost charged by our vendors (ISPs). A PoP in the "ultra" group is more expensive than one in the "standard" group, but does not necessarily deliver better performance than a "standard" PoP. Performance experienced by each end user is determined by the connectivity between the user and the PoP. Adding the "ultra" group to serve a region just provides our GSLB algorithm more PoPs to choose from, such that the end users in that region are more likely to get a PoP with better connectivity.
If I choose to use the ultra server group for a region, will all traffic in that region be charged the ultra price?
No. The CDN360 GSLB assigns PoPs primarily based on performance. Adding "ultra" to serve a region enables the GSLB to choose from a larger pool of PoPs for that region. If the algorithm determines that a request will be better served by a "standard" PoP, the traffic is still served from that PoP and incurs a "standard" charge.
Are there performance guidelines for server groups that cover certain regions?
In general, the "standard" group delivers excellent coverage for North America , Europe, and some regions in Asia. Adding the "premium" group can enhance the performance in those areas as well as the Middle East. Adding "premium+" delivers good performance in Mainland China and other Asian countries. Adding "Ultra" gives you our best possible performance in all areas. We invite you to try different configurations to determine the right balance between performance and cost.
In the meantime, we are rapidly adding more PoPs globally including South America, Oceania and Africa to expand our coverage.
Trusted by global leading companies across key industries
CDNetworks is a leading Global Content Delivery Network. We provide innovative and custom-tailored solutions to businesses across key industries.