Access
Acceleration
Accelerate network access for your end users
Eliminate issues with slow speed interactive access.
CDNetworks Access Acceleration consists of a powerful network transmission acceleration that fuels the Global Dynamic Acceleration Platform. Our Access Acceleration solution eliminates issues with slow speed interactive access.  Access Acceleration renders a stable, fast and secure global acceleration service for TCP/UDP based transmission access.
Ultimate Acceleration Enhances Online User Experiences 
Improves the surfing experience of end users, especially when accessing international sites and loading large files. 400% increased in speed vs public networks.
Abundant CDN Resources
CDNetworks' CDN platform provides services to over 500 million end users every day and is a leader in the content delivery of live stream broadcast, VOD, downloading, webpage, etc.
Cost-Effective Solution
A better online experience with a relatively low cost compared to bandwidth expansion.
Multi-Protocol Support
All TCP/UDP based application protocols are supported. Accelerates access to third-party domains by renaming the domains.
Professional Support, Increase Operational Efficiency
Comprehensive technical support team provides 24/7 support to customer. Every ACCA customer will be assigned to a designated project manager, who will offer services including troubleshooting, consulting and customized services.
Access Acceleration Resources
Access Acceleration Resources
Read more at our blog
Access Acceleration Resources
Route Optimization
Intelligent routing
Multi-link transmission
Access Assurance
Intelligent DNS
TCP acceleration routing
Content Acceleration
TCP/UDP acceleration
HTTPS/HTTP acceleration
Access Acceleration Diagram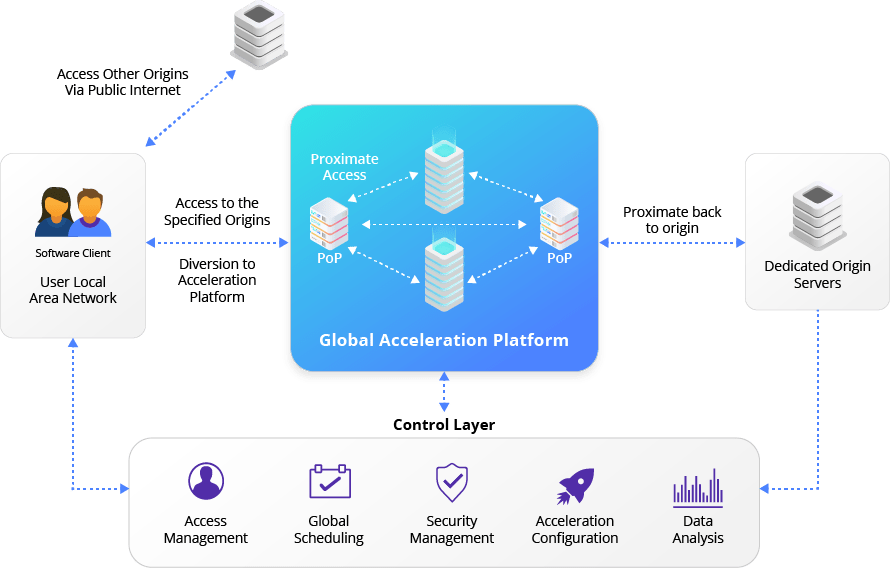 Our Global Network
No matter what industry you're in, we provide you with a tailored CDN solution to ensure efficient web performance for your global audience.
Trusted by global leading companies across key industries
CDNetworks is a leading Global Content Delivery Network. We provide innovative and custom-tailored solutions to businesses across key industries.