As increasing numbers of users demand online content that is as good, if not better than, traditional broadcast video, media and entertainment companies are facing greater pressure to deliver top-tier content consistently and reliably to large audiences around the world. Not only do resource-intensive services such as video on demand, live and social streaming, animation, and audio need to be optimized for diverse devices – from TVs to laptops, tablets, and mobile devices – downloading this rich media must be fast and hassle-free. Media and entertainment companies also need to ensure secure access to safeguard content and user identities while conserving server resources.
CDNetworks' media and entertainment solution provides all the functionality needed to manage the fast, frame-perfect delivery of video streaming and media content. It also secures video streams and personally identifiable information from intrusion and theft while decreasing latency in order to meet the rigorous demands of live and on-demand streaming.
Fast delivery of your media content anywhere on any device
CDNetworks Media Acceleration leverages CDNetworks' industry-leading CDN to provide lightning-fast delivery of online media content that improves availability, reduces errors, and fosters increased engagements. Our advanced global delivery technologies empower you to prepare for sustained growth and scale for temporary spikes while preventing viewer frustration fueled by delays due to increased demand. And with its on-any-screen capabilities, CDNetworks Media Acceleration provides the foundation upon which every customer relationship is built: accelerated and secure digital delivery of on-the-fly content with no lags or snags.
Live streaming delivery with ultra-low latency, high reliability, and scalability
The closer a user's network is to the server sourcing content, the better the speed and lower the latency. Leveraging CDNetworks' industry-leading CDN, CDNetworks Media Acceleration-Live Broadcast delivers content from the edge using globally distributed Points of Presence (PoPs) to place content close to users worldwide with phenomenally low latency. Media Acceleration-Live Broadcast is ideally suited for interactive live streaming, OTT live streaming, and live scenarios that involve transcoding, recording/screenshot, and other latency-sensitive applications and services.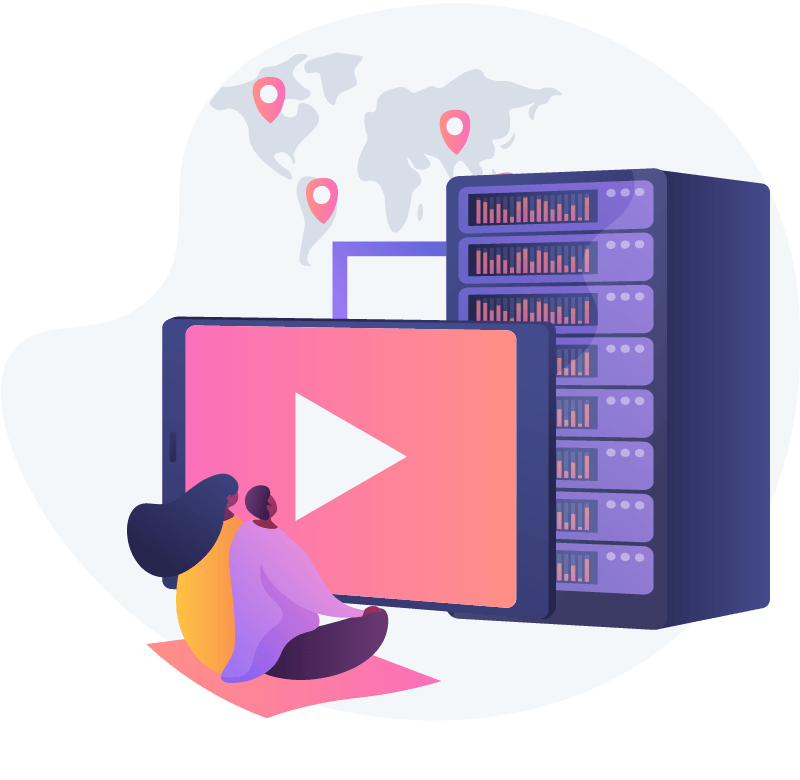 Protection from cyber-attacks to maintain user experience continuity
CDNetworks Cloud Security Solution provides the industry's leading line of defense to protect websites and network infrastructures against cyber attackers intent on stealing your digital assets, purloining your users' personally identifiable information, and taking down your site and applications. Proactive site monitoring, WAF and bot mitigation, and other advanced cyber security tools provide peace of mind by thwarting breaches, ensuring site security, and maintaining availability – even during attacks.
Engaging wider audiences with HTTP transmissions
CDNetworks' media and entertainment solution provides flexible transcoding and transmuxing features, along with HTTP streaming capabilities, to achieve wider delivery footprints across a myriad of devices and operating systems. As large amounts of content continue to move online, HTTP transmissions provide owners of this content with ways to monetize and protect content, while maintaining a lower overall delivery cost.
Explore Our Solutions for Media and Entertainment