Media Acceleration Live/VoD
Deliver high quality video on-demand (VoD) anywhere and on any device.
Provide ultra-low latency streaming experiences to consumers.
CDNetworks Media Acceleration Live/VoD delivers high quality traditional live broadcast (one broadcaster and many viewers) and video on demand anywhere and any devices for viewers. Our media acceleration pulls video contents directly from customer's origin server or CDNetworks Cloud Storage in both traditional live broadcast and VoD use cases. Our IP multicast technology supports TCP-based client transmission and helps reduce traffic congestion and broadcasting cost without compromising video stream performance.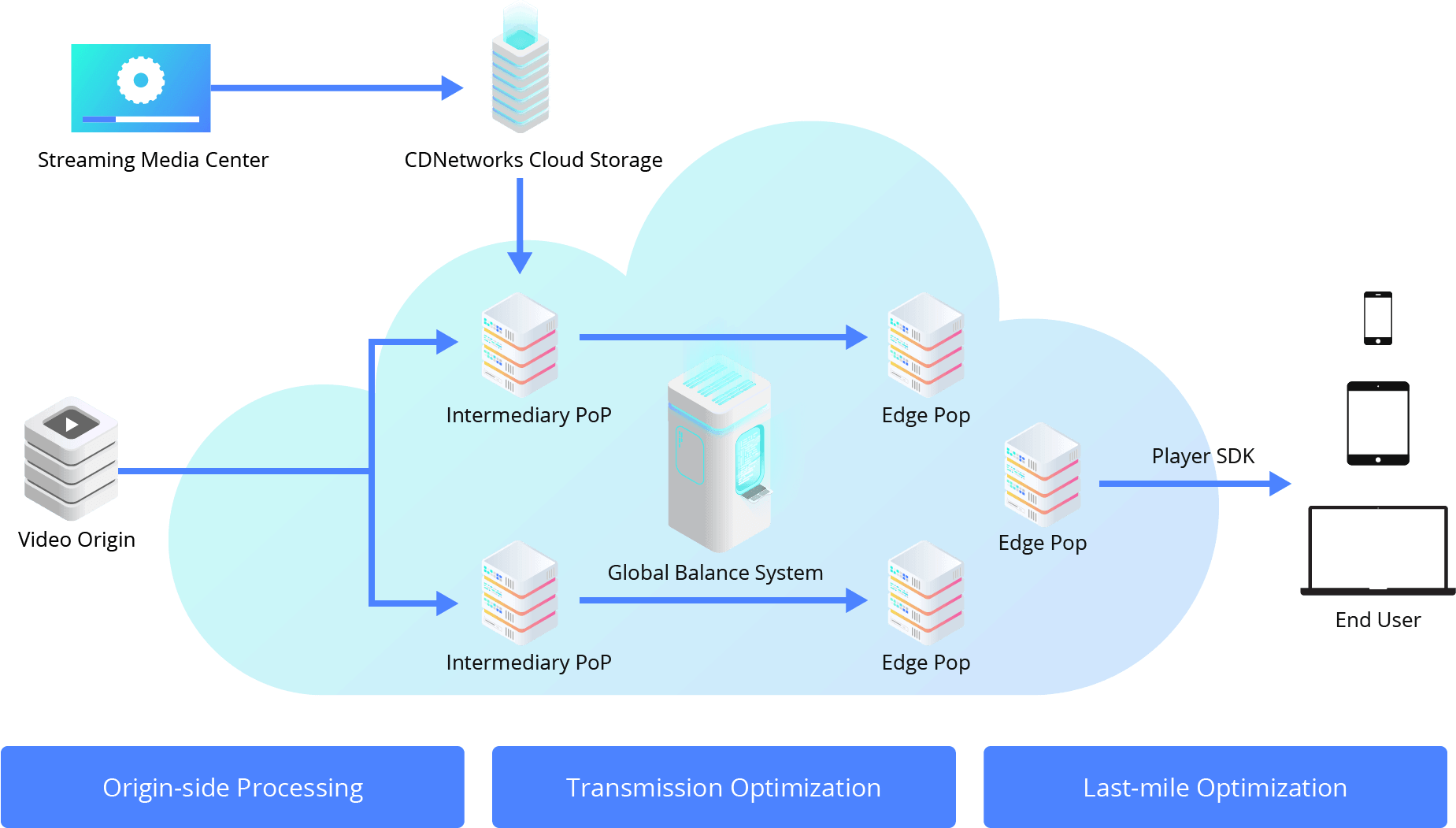 Bandwidth scalability
Given our 50Tbps bandwidth capacity, we can help deliver premium content to millions users across the world.
High availability
High quality of service with redundancy is our highest priority when providing smooth video service to content providers.
Reduced costs
Large server networks with proximity to end users have construction and maintenance costs that are too high for most content providers to ramp up in a short period of time.
Customized Integrations
We provide support for industry-leading solutions to create custom integrations for your unique requirements

Multi-protocol support
HLS, DASH, H.265, HTTPS, HTTP/2
Video configuration and management
Flexible cache policies for cache configuration, Dynamic bit rate & Intelligent video buffering
Monitoring services
Origin monitoring, Status monitoring, Traffic monitoring, QoS monitoring from server side and client side
Security
Access control (token authentication, geo-blocking, IP whitelisting and blacklisting)
Stream protection
Distribution data protected by anti-hotlinking, video file data protected by digital encryption, video content protected by copyright mark
Our Global Network
No matter what industry you're in, we provide you with a tailored CDN solution to ensure efficient web performance for your global audience.
Trusted by global leading companies across key industries
CDNetworks is a leading Global Content Delivery Network. We provide innovative and custom-tailored solutions to businesses across key industries.