Zero-Trust Access to Secure Hybrid Network
CDNetworks Enterprise Secure Access (ESA) is a cloud service that provides enterprises with secure remote access. ESA uses a Zero Trust implementation with a Software-Defined Perimeter(SDP) infrastructure to control access to and from any platform in any environment on any device. Integrated with identity authentication, application acceleration, and unified management, Enterprise Secure Access ensures that only authorized users can access specific private, public, and SaaS applications. In this way, Enterprise Secure Access enables enterprises to establish a secure, efficient, and easy-to-use hybrid networking environment.
Never Trust, Always Verify
ESA provides an easy way to grant users permission to the applications they need while denying access to controlled or protected resources.
Protect Your Application & Data
By shielding applications and users behind a secure gateway, CDNetworks ESA eliminates the attack surface to stop cyberthreats and data loss before they occur. 
Less Complexity, More Efficiency
Provides an easy-to-use management platform and the powerful client to help customers tune their user experience, track anomalies and events, and increase operational efficiencies.
Boost and Secure Remote Access
Zero-Trust gateway and control center adds flexibility and accurate access control over employee remote network access. Make work-from-anywhere a reality.
Empower Performance with Lower Cost
Replace slow, risky, and complex VPNs with a faster, safer, and easy-to-manage solution, reducing costs for facilities, maintenance, and IT human resources.
Protect Applications from Cyberthreats
Network attackers can hack only the applications visible to them. Enterprise Secure Access shields the origin's IP address and ports behind a security gateway, and intercepts network attacks before they can reach their destination.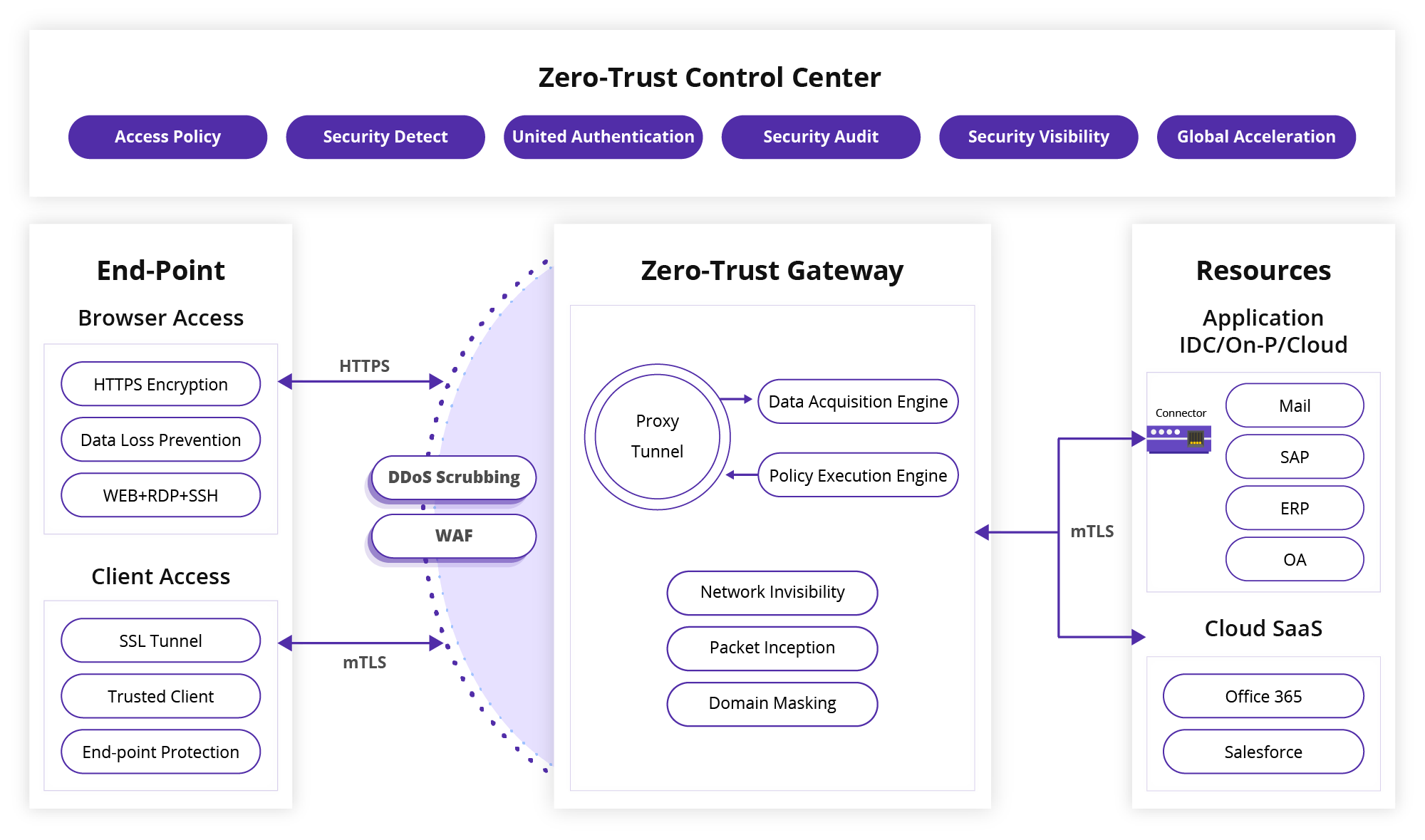 Enterprise Secure Access is a cloud service based on SDP and Zero Trust architecture. With Zero Trust at the core of its infrastructure, Enterprise Secure Access evaluates each user's identity, device, and risk before forwarding access request to enterprise applications.
A control center makes it easy to manage user privileges by establishing a preset trusted posture, then optimizing it continuously by evaluating user behaviors, device security, and threat intelligence. If any treat is detected to the account, the control center will dynamically adapt user privileges.
A security gateway establishes a secure tunnel between applications and clients to block unauthorized requests from external environments. It also privatizes resource IP addresses and ports to eliminate potential attack surfaces, ensure data integrity, and secure access.