Flood Shield is a comprehensive cloud-based DDoS protection service that delivers fast, simple, and effective DDoS protection to ensure the stability of your origin against distributed denial-of-service attacks (such as SYN Flood, ACK Flood, UDP Flood, HTTP Flood, etc.) in real time, and simultaneously provides an acceleration service to legitimate users to optimize the user experience. This solution functions as a shield to ensure the stability and reliability of online services and infrastructures.
Huge Mitigation Capacity
With 12+ Global DDoS Scrubbing Center and 15+ Tbps of Mitigation Capacity, Flood Shield protects your business against even the most sophisticated and large-scale volumetric attacks.
防护信息展示
Flood Shield provides visibility into all your DDoS attacks, including Layer 3/4 and Layer 7 DDoS dashboard and log.
BGP Anycast Mitigation
BGP Anycast technology mitigate the attack traffic disperses intelligently, then inject back the normal traffic after the scrubbing is completed.
我们提供基于风险状况而设计的灵活计费模型,让您能够按需付费。您可以根据预算选择无限防护。
CDNetworks 提供全面的多层安全解决方案,涵盖DDoS防护、Web应用防火墙(WAF)、API安全和网关、Bot管理和特定攻击偏转模块,为您的服务和应用提供保护。 同时,我们管理控制台可同时管理多种产品,您可以节省维护成本,同时简化多团队操作。
Flood Shield provides visibility into all your DDoS attacks and cyber attacks and threats with comprehensive and intuitive security dashboards. The dashboards display a summary of information about Layer 3/4 and Layer 7 attacks that have been detected by CDNetworks Flood Shield. The information data is automatically updated in near real-time when significant attacks happen, which includes DDoS attack bandwidth, attack IP list, attack map, attack types and count, etc. You can use the data to better understand attack trends, and come up with the right strategies to quickly optimize your network security to combat DDoS threats in the future.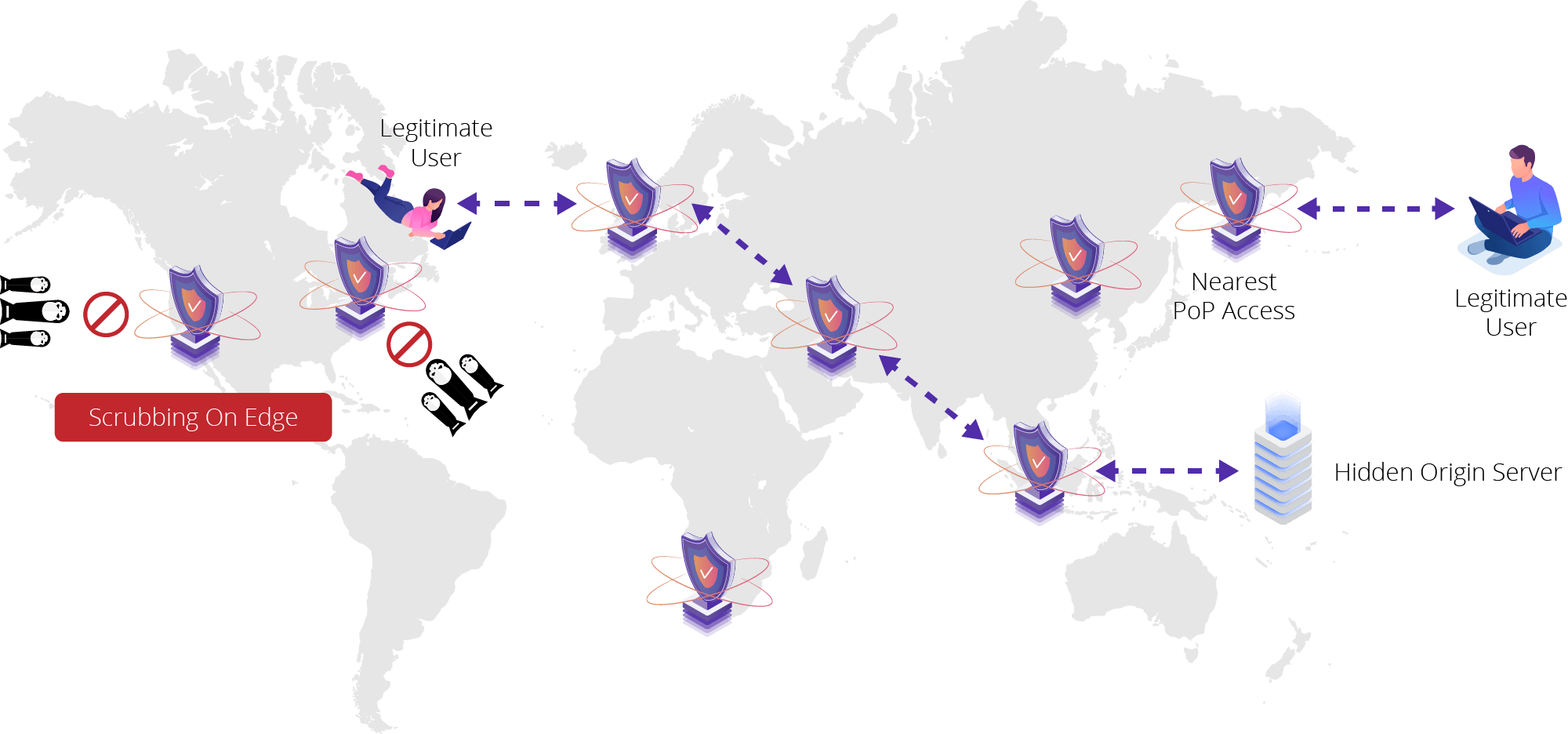 Flood Shield DDoS deflection technology is deployed on CDNetworks' distributed Points-of-Presence (PoPs). It is a cloud-based "always-on" mitigation service with virtually unlimited capacity. It does not require sophisticated deployments and changes to customers' networks and provides transparent scaling automation. Flood Shield is provided either via a simple DNS change, typically to protect websites, HTTP/S traffic and entire network infrastructures, including multiple domains, servers, and protocols. With the customer traffic routed through CDNetworks' PoPs, DDoS attacks hit the CDNetworks infrastructure rather than the customers' servers and networks. CDNetworks' PoPs detect and deflect both application-layer attacks (L7) and all known types of network-layer attacks (L3/L4).