CDNetworks Enterprise Secure Access (ESA) is a cloud service that provides enterprises with secure remote access. ESA uses a Zero Trust implementation with a Software-Defined Perimeter(SDP) infrastructure to control access to and from any platform in any environment on any device. Integrated with identity authentication, application acceleration, and unified management, Enterprise Secure Access ensures that only authorized users can access specific private, public, and SaaS applications. In this way, Enterprise Secure Access enables enterprises to establish a secure, efficient, and easy-to-use hybrid networking environment.
Never Trust, Always Verify
ESA provides an easy way to grant users permission to the applications they need while denying access to controlled or protected resources.
Protect Your Application & Data
By shielding applications and users behind a secure gateway, CDNetworks ESA eliminates the attack surface to stop cyberthreats and data loss before they occur. 
Less Complexity, More Efficiency
Provides an easy-to-use management platform and the powerful client to help customers tune their user experience, track anomalies and events, and increase operational efficiencies.
零信任网关和控制中心,为员工远程网络访问增加了灵活性和精确的访问控制。让任何地点的远程办公成为现实。
用更快、更安全、更易于管理的解决方案取代速度慢、风险大、使用复杂的VPN,从而降低设施、维护和IT人力资源的成本。
网络攻击者只能攻击能看到的应用程序。企业安全访问在安全网关后面屏蔽源IP地址和端口,并在网络攻击到达目标之前拦截网络攻击。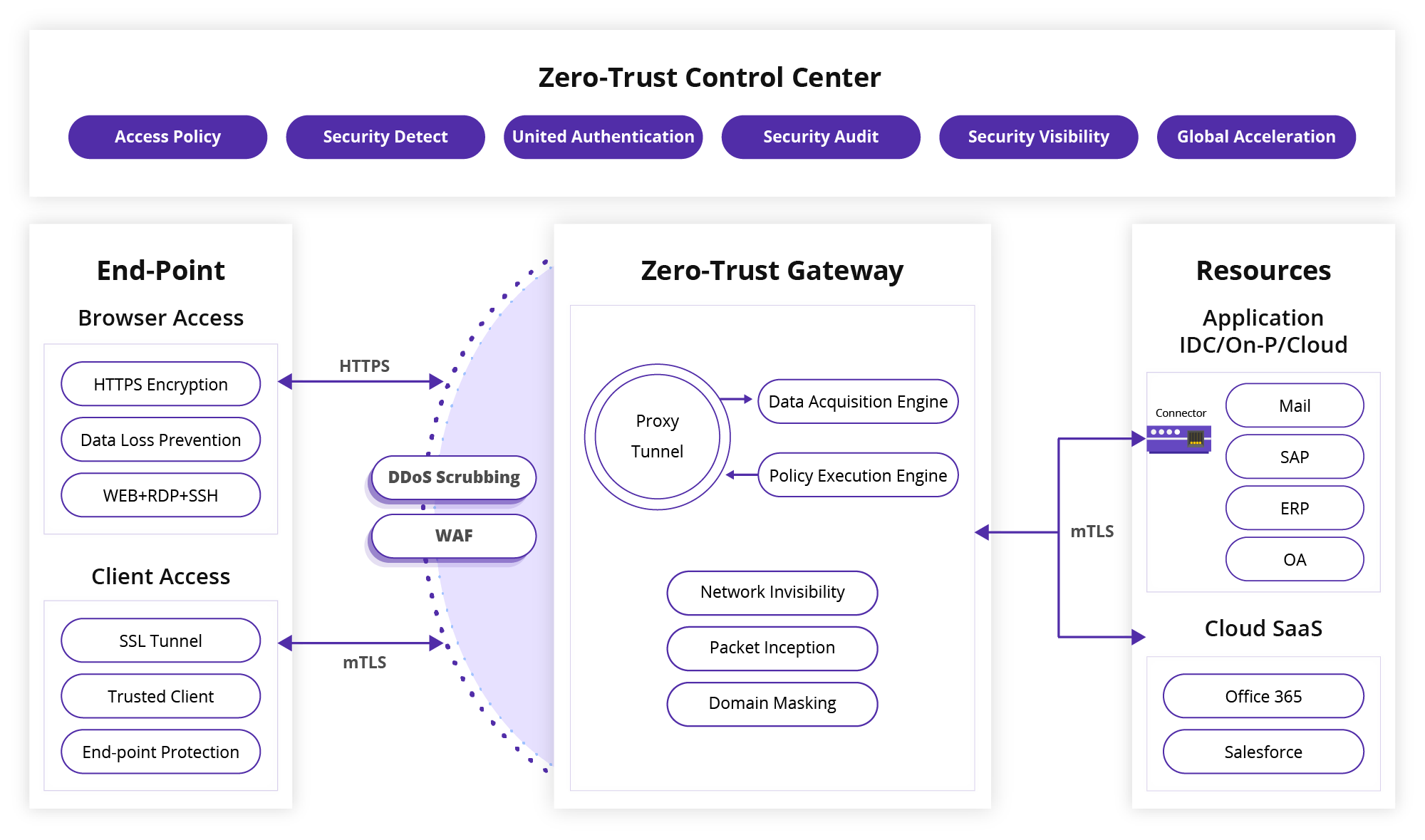 企业安全访问是基于SDP和零信任架构的云服务。企业安全访问以零信任为基础架构的核心,在将访问请求转发给企业应用程序之前,会评估每个用户的身份、设备和风险。
控制中心会建立预设的受信任状态,然后通过评估用户行为、设备安全和优化威胁情报,从而轻松管理用户权限。如果检测到帐户的任何威胁,控制中心将动态调整用户权限。
安全网关会在应用程序和客户端之间建立一个安全隧道,以阻止来自外部环境的未经授权的请求。它还将资源IP地址和端口私有化,以消除潜在的攻击风险,确保数据完整性和安全访问。