The next evolution of content delivery networks
Take charge of your CDN with our unique self-serving features.
CDN360 is leading the next evolution of content delivery networks (CDN). Our platform accelerates, secures, and scales your applications — enabling you to have granular control over your content delivery and costs. With a clean workflow and programming interfaces at its core, CDN360 creates an engaging experience for engineering teams, and comes ready to be fully integrated into the development-automation process.
CDN360 boasts unique self-service capabilities, along with a friendly, yet powerful user interface and application programming interface (API), for seamless integration into your SDLCs.
Free traffic usage for up to $50, test CDN360 with no commitment, no credit card.
Coverage & Pricing
CDN360 is dedicated to providing customers with the finest self-service experience, including the capability of balancing cost with performance. CDNetworks' global points of presence (PoPs) are organized into four "server groups" based on cost.
HTTPS additional charge: $0.99 per million requests. Free traffic usage for up to $50, test CDN360 with no commitment, no credit card.
We define different prices for traffic served from the four groups. Customers are empowered to self-configure the "server groups" for each country and ISP. In this way, they can fully customize performance and cost for different regions in the world. CDN360 covers the most significant areas on the planet, and continues to expand its global network reach at a rapid pace.
North America
Atlanta, USA

 

Boston, USA

 

Dallas, USA

 

Denver, USA

 

Indianapolis, USA

 

Los Angeles, USA

 

Miami, USA

 

Montreal, Canada

 

Toronto, Canada

 

New York City, USA

 

 
EMEA
Amsterdam, Netherlands

Bucharest, Romania

Frankfurt, Germany

London, United Kingdom

Madrid, Spain

Milano, Italy

Stockholm, Sweden

Warsaw, Poland
Asia & Oceania
Ha Noi, Vietnam

Hong Kong, Hong Kong

Incheon, South Korea

Singapore, Singapore

Taipei, Taiwan

Tokyo, Japan
Bayannaoer

Beijing

Benxi

Chengdu

Foshan

Fuzhou

Guangzhou

Hangzhou

Hegang

Huhehaote

Jieyang

Lanzhou

Lishui

Luohe

Maoming

Meishan

Nanjing

Qingdao

Quanzhou

Shantou

Shenyang

Shijiazhuang

Taizhou

Tianshui

Weifang

Wenzhou

Xiangyang

Xiaogan

Yangzhou

Yuncheng

Yuxi

Zhengzhou

Zibo
How the model works?
Assume your main objective is to ensure the performance of your website in China and Korea. In this scenario, you may want to configure the edge hostname to use all four server groups to serve these two countries, while using the "standard" group to serve the rest of the world. The screenshot on the right shows the completed configuration on the portal.
Consequently, the GSLB algorithm will take all PoPs into consideration to serve the two countries while only consider the "standard" PoPs for the rest of the world. At the end of the billing cycle, the invoice simply shows the amount of traffic served by each server group and the total number of HTTPS requests, with the associated charges.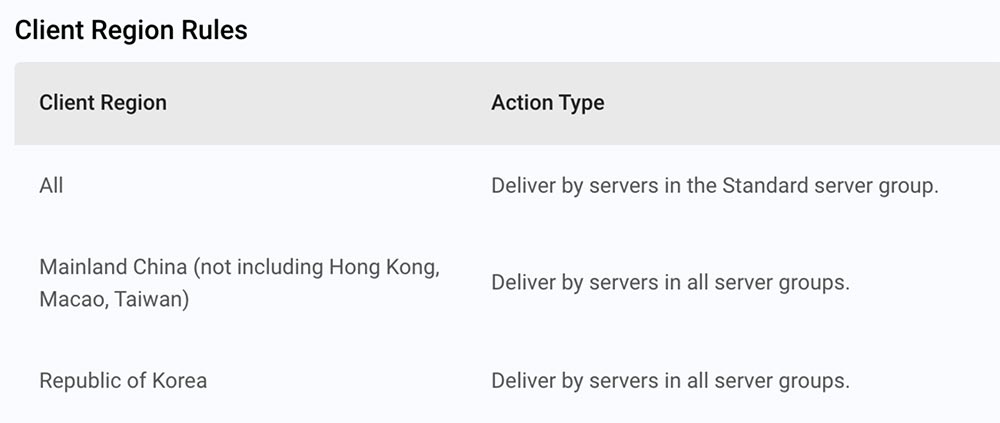 New customers get a monthly discount up to $500 for the first 3 months. For a minimum commitment of $3000 per month, our sales department can set up a customized pricing plan. Please fill out the form and we will contact you shortly.
Product Benefits
CDN360 is designed to accelerate and deliver your applications to users worldwide, regardless of their location. CDN360 boosts content delivery, improves load times, and provides many more clear-cut advantages to deliver an unparalleled user experience.
Frequently Asked Questions