Aqua DRM
미디어 파일을 암복호화하여 원본 유출 방지 및 완벽한 콘텐츠 보호
Aqua DRM은 디지털 콘텐츠 보호 솔루션으로 미디어 파일을 암복호화하여 원본 유출을 방지함으로써 미디어 콘텐츠를 보호합니다.
제품 특징
높은 수준의 보안성
미국 차세대 표준인 128bits AES 암호 알고리즘 적용
안정성과 보안성이 뛰어난 응용프로그램 내장형(Built-in) 암복호화 솔루션
다양한 운영 툴 및 환경 제공
콘텐츠 암복호화에 필요한 툴 제공 (패키징 소프트웨어, API 제공)
Windows, Linux, Unix, Embedded System 등 다양한 시스템에 적용 가능
맞춤형 서비스
고객의 요구사항에 맞는 유연한 커스터마이징
실시간 DRM 인증 현황 통계자료 제공 및 365일 헬프데스크 운영
안정적인 암복호화 솔루션으로 고객센터 CS 요청건수 최소화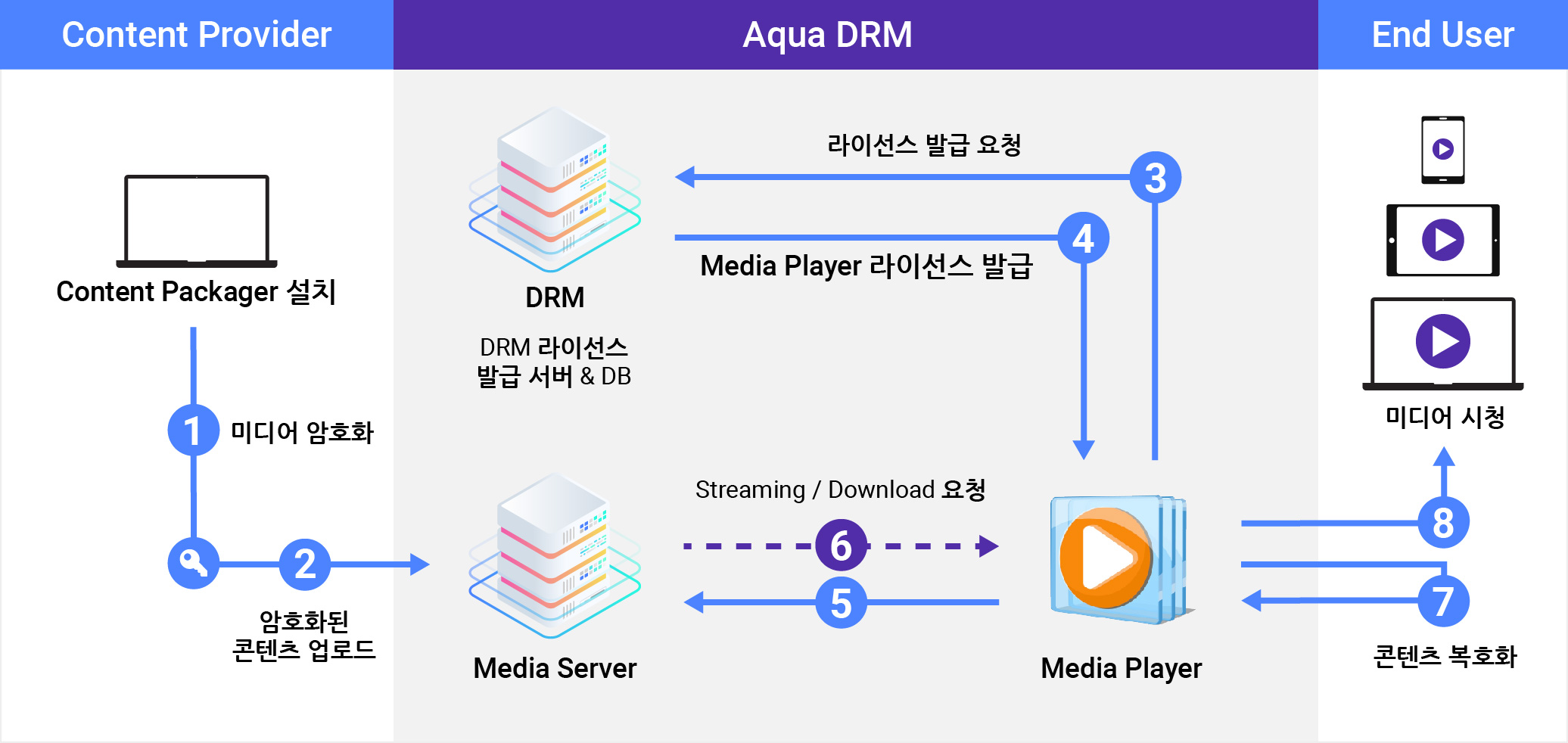 미디어 콘텐츠 보호
콘텐츠 서버로부터 최종 사용자에게 콘텐츠가 전송되는 동안 원본 유출 방지
파일을 암호화하여 유출되더라고 파일 사용이 불가능하도록 원천 봉쇄하여 기업의 자산인 미디어 콘텐츠를 보호
미디어 보안 시스템 구축
Aqua Auth, Aqua Director와 함께 고객사의 미디어 콘텐츠를 3중으로 보호
다양한 파일 형식 지원으로 폭넓은 적용 가능
Our Global Network
No matter what industry you're in, we provide you with a tailored CDN solution to ensure efficient web performance for your global audience.
Trusted by global leading companies across key industries
CDNetworks is a leading Global Content Delivery Network. We provide innovative and custom-tailored solutions to businesses across key industries.